HKSTP 2017.10.04
HKSTP partner company "Bio-Cancer Treatment International Limited" makes significant progress in cancer treatment R&D
Its local biological anti-cancer drug BCT-100 shows promising results in clinical trial
Hong Kong, October 4, 2017 – Bio-Cancer Treatment International Limited (BCT), a Hong Kong Science and Technology Parks Corporation ("HKSTP") partner company, reports that its biological anti-cancer drug BCT-100 has shown a breakthrough result in its recent US clinical trial: one of the late-stage melanoma patients has achieved complete remission.
BCT-100 shows promising results in clinical trial
Hong Kong has an average of more than 27,000 cases of cancers every year, according to Hong Kong Cancer Fund statistics. Conventional treatments of radiotherapy or chemotherapy have severe side effects, and while targeted therapies have generally less severe side effects, they come with prohibitive cost. BCT-100, the main drug of BCT, is the first innovative drug discovered and developed in Hong Kong that was approved for clinical trial by the US Food and Drug Administration (FDA), and is also expected to get approval for clinical trial by the United Kingdom's Medicines and Healthcare Products Regulatory Agency (MHRA) soon. BCT has been granted patents for its BCT-100 technologies in the United States, Europe, Australia, Mainland China, Hong Kong and Israel.
BCT-100's active ingredient, recombinant human arginase 1, is an arginine depleting enzyme that slows down tumour growth and ultimately causes cancer cell death. BCT-100 targets Arginine Auxotrophic Cancers, such as melanoma, hepatocellular carcinoma (HCC), prostate cancer and acute myeloid leukaemia (AML), which are cancers that cannot regenerate arginine by themselves. As systemic depletion of arginine by BCT-100 will not adversely affect normal human cells, the treatment will minimise the common side effects associated with other cancer treatments.
Dr. Paul Cheng, MD, BCT's Co-Founder and Chief Executive Officer, reported promising efficacy in the Phase I clinical trial of BCT-100 in the US involving 15 Arginine Auxotrophic Cancers patients. One of the patients suffering from final-stage melanoma, who had limited improvement after three to four types of treatments including two newest immune checkpoint inhibitors, has shown exceptional response after using BCT-100 for five months with all tumours dramatically disappeared from CT scans, achieving complete remission. The patient is alive and well more than one year after the initial treatment of BCT-100.
Dr. Cheng, who has long been involved in cancer treatment R&D in Hong Kong, is encouraged by the results. "BCT's R&D team has been focusing on finding treatments for malignant tumours and other diseases through recombinant human arginase 1. Initial clinical trials targeting HCC and leukaemia have been conducted in Hong Kong and the US. The recent clinical trial on the melanoma patients shows very encouraging results. It proves that BCT-100 is potentially effective for treating different types of cancers. We are motivated by the results and are in the process of amending the US Phase I trial protocol by adding an expansion arm of up to 22 melanoma patients. We look forward to more funding and technical supports to take the new treatment to the market for the benefits of cancer patients."
Decade-long R&D process gains strong support from Hong Kong Science Park ecosystem
Dr. Cheng was inspired by a liver cancer study he learned about in Switzerland in 2000. Upon returning to Hong Kong, he invited Dr. Jun Sing Lee to co-found BCT and build a R&D team. They collaborated with the Hong Kong Polytechnic University and received a grant from the Innovation and Technology Commission to work on the development of recombinant human arginase as a novel agent for the treatment of human cancers. BCT joined Hong Kong Science Park in 2007 to leverage the Park's advanced laboratory facilities, which in Dr. Cheng's view are crucial for biotechnology companies' R&D works.
The Biomedical Technology Support Centre of Science Park provides shared equipment, Cell Culture Room, Genomics Laboratory and other facilities to support biomedical companies in the Science Park ecosystem. "After we set up in Science Park, we no longer had to battle on our own in the R&D journey. In addition to hardware support, networking opportunities with the right stakeholders are also vital. HKSTP leads technology companies from the park to overseas exchange missions, which have helped us connect with targeted investors and pharmaceutical companies," Dr.  Cheng said.
Having benefited from Science Park facilities and support measures, Dr. Cheng is optimistic of the future development of the local biotechnology field. As well, the company will make plans to apply to China Food and Drug Administration for clinical trial and hopes to achieve multi-location clinical trials and eventually get the drug registered.
HKSTP Chief Technology Officer George Tee said: "We are delighted to see the exceptional results of BCT's clinical trial. It is a testament to the dedicated efforts of Dr. Cheng and his team, and underpins the R&D capabilities of the local biotechnology companies. Hong Kong with a world-class medical system, exceptional teaching and R&D talent of the two medical schools (The University of Hong Kong and the Chinese University of Hong Kong), coupled with the advanced R&D setup of Hong Kong Science Park, makes for an ideal platform for advancing bio-tech."
HKSTP has always been supporting the local development of innovation and technology, and biopharmaceutical research is one of its key development groups. Science Park, currently converging more than 100 biotechnology companies involved in stem cell research, genome based diagnostics and regenerative medicine, offers synergy for developing cutting-edge bio-technology. In recent years, Hong Kong Science Park has drawn renowned regenerative medicine authorities from overseas and Mainland China to set up their bases in Hong Kong, namely the Ming Wai Lau Centre for Reparative Medicine set up by Sweden's Karolinska Institutet and the Guangzhou Hong Kong Stem Cell and Regenerative Medicine Research Centre announced by China's research and development authority, the Chinese Academy of Science.
–End–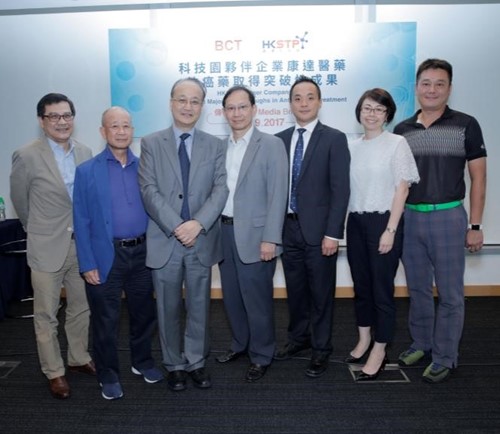 Bio-Cancer Treatment International Limited, a Hong Kong Science and Technology Parks Corporation partner company, reports that its biological anti-cancer drug BCT-100 has shown a breakthrough result in its recent US clinical trial. HKSTP Chief Technology Officer George Tee (3rd from the right), Head of BioMedical Technology Cluster (Middle) and Dr. Paul Cheng, MD, BCT's Co-Founder and Chief Executive Officer (3rd from the left) shared biomedical development in Hong Kong and the technology development respectively.
About Bio-Cancer Treatment International Limited
Bio-Cancer Treatment International Limited (BCT) was founded in 2000. BCT is a clinical stage biopharmaceutical company which focuses on research and development of cancer and immune disorders treatments and innovative biopharmaceuticals. The company's main products are BCT-100 and BCT-200, which are both PEGylated recombinant arginase 1 (pegArg1). They create an environment where cancer cells cannot maintain its arginine level, thus prevent growth of the tumour and causes apoptosis of the cells. BCT-100 is currently undergoing Phase 1 clinical trial in the US, which focuses on the treatment for arginine auxotrophic cancers. In Hong Kong, a Phase 2 clinical trial focusing on the treatment for acute myeloid leukemia (AML) is being held. BCT-200 is a modified version of the BCT-100's arginine sequence, currently, it is still in the pre-IND stage.
About Hong Kong Science and Technology Parks Corporation
Comprising Science Park, InnoCentre and Industrial Estates, Hong Kong Science & Technology Parks Corporation (HKSTP) is a statutory body dedicated to building a vibrant innovation and technology ecosystem to connect stakeholders, nurture technology talents, facilitate collaboration, and catalyse innovations to deliver social and economic benefits to Hong Kong and the region.
Established in May 2001, HKSTP has been driving the development of Hong Kong into a regional hub for innovation and growth in several focused clusters including Electronics, Information & Communications Technology, Green Technology, Biomedical Technology, Materials and Precision Engineering. We enable science and technology companies to nurture ideas, innovate and grow, supported by our R&D facilities, infrastructure, and market-led laboratories and technical centres with professional support services. We also offer value added services and comprehensive incubation programmes for technology start-ups to accelerate their growth.
Technology businesses benefit from our specialised services and infrastructure at Science Park for applied research and product development; enterprises can find creative design support at InnoCentre; while skill-intensive businesses are served by our three industrial estates at Tai Po, Tseung Kwan O and Yuen Long. More information about HKSTP is available at www.hkstp.org